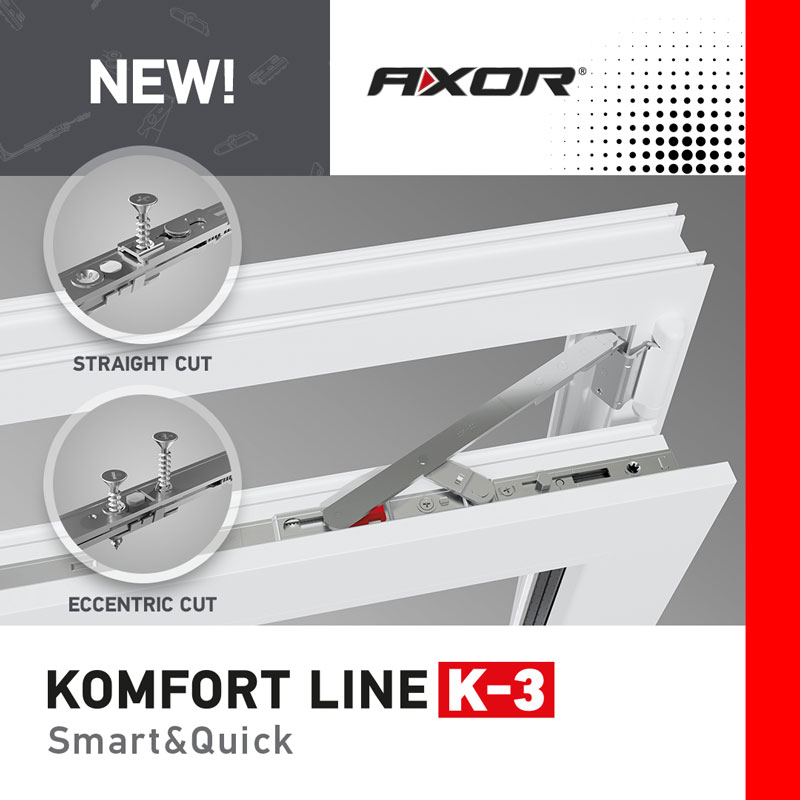 Dear partners, new from AXOR – improved line of window hardware Komfort Line K-3 – SMART & QUICK!
This is combination of high quality, additional possible configurations and increased level of anti-burglary. This is all about Komfort Line K-3 – SMART & QUICK. In addition, it has become even more convenient to assemble, what will be highly appreciated by window manufacturers.
Familiarize yourself with the main advantages of updated K-3 SMART & QUICK line:
• Higher stiffness of the profile section provides 5% higher resistance to its bending;
• Locking cams are located 0.25 mm lower, so installation of micro ventilation and security locking plates will be more convenient;
• Ability to combine with S+ system without using an additional element;
• Changed face plate provides impeccable appearance that will satisfy even the most demanding consumers;
• Increased sizes of gears and stay arm allow window producers to use both straight-cut and eccentric-cut cutting tools;
• Improved connection of gears and stay arm with corner transmissions due to location of driving rod at 0.25 mm lower;
• The presence of corner transmissions for eccentric cut will satisfy needs of window manufacturers, for whom it is convenient to assemble window hardware with a two-plane connection.
SMART & QUICK is the constant quality of AXOR Industry products, speed of assembly and versatility in use.