![if lte IE 6]> <![endif]> <![if lte IE 6]><![endif]> <![if IE 7]><![endif]> <![if lte IE 7]> <![endif]> <![if lt IE 9]> <![endif]-->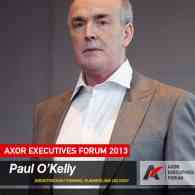 AXOR INDUSTRY holds the first business forum for executives of companies operating in the metal-plastic constructions industry in Ukraine and CIS countries. «AXOR EXECUTIVES FORUM» will become an annual event for AXOR INDUSTRY partners. They will be able to not only share experience and discuss current markets, but also improve their skills thanks to trainings and workshops conducted by leading European and CIS-countries business coaches.
This year the training will be hosted by well-known European business coach Paul O'kelly. The rich detailed training program will cover the following topics: optimization of business processes, identification and analysis of growth factors, human resource management, key brand values, cash flow management, development of effective communication system within the company. A comprehensive approach with case studies will allow executives to acquire new knowledge, which can be put into practice.